Learning Fun: Games, Puzzles and Cartoons

---
Kids, money does matter! Check out these online games, videos, and brain-teasing puzzles to learn important stuff about saving, investing and becoming a fraud fighter.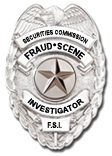 Fraud Scene Investigator
Become an FSI and take the online challenge to uncover an investment scam. You'll need Flash Player 10 or higher to play.

Scam Blaster
Ready to be a super hero and bust some scams? Go to the East Terrace at the Mall and enter Kablamo! Comics at your own risk. You'll need Flash Player 9 or higher to play.

Learn about the red flags of investment fraud to become a fraud-fighting ninja warrior. Hi-yah! To view the Xtranormal cartoon series by NASAA.org, click on the action figure at left.


Brain Teasers
Challenge your noggin with Money Word Search and Money Word Scramble. Need help with the answers? Ask your teacher, parent, or send an email t0: info@azinvestor.gov.